The #1 food solution – Forward in food, more than just an ERP
Starting with the core for our solutions – D365 Business Central. The ERP foundation for small to medium to corporate sized companies. Extending the ERP foundation with the use of events moving away from embedded code. Combined with CRM or Apps, e.g. the D365 Marketing & Sales apps. Delivering Business Intelligence using the platform data services in combination with Power BI to present & report the data. Making use of PowerApps, Flow and the Common Data Model to enable citizen development for purpose-built apps.
To be more specific, the Citizen Developer is a user who builds applications to facilitate the processes of business operations while following the development guidelines of IT. Unlike a professional developer, they may not have formal training in programming, and developing may not be part of their actual job description.
Opening up IoT services to analyze, monitor and act upon all the data that is generated from IoT devices. Tying it all together and opening it up using Azure Services to enhance, extend and integrate.
More than Business Central
More than just an ERP
Designed and developed from the ground up
Using modern development methods, principles and tools
Only using ERP when necessary and when it makes sense.
Delivering other business domains on the same platform using all the other possibilities and capabilities of the platform
Leveraging the whole Dynamics 365 platform
Even better – encompassing the complete Microsoft 365 platform.
Whilst keeping it as simple as possible.
We Focus on Food!
We are going to build a new house, to give shelter to our Foodware processes, functions and features. A future based on Microsoft's D365 platform. Building a strong ERP Foodware foundation. Extended with a business domain approach, separate & join Foodware processes, functions and features in business domains, e.g. warehousing, transport, master data management etc.
In the process, we will re-vitalize our best practices and make use of the platform capabilities and possibilities to enhance, to extend and integrate across business domains. Construct purpose-built apps, e.g. for operation control (i.e. shop floor) and quality control functions. Using PowerApps, Flow and the Common Data Model. Furthermore, to enable you and our services teams to become citizen developers who improve areas of business such as internal operations.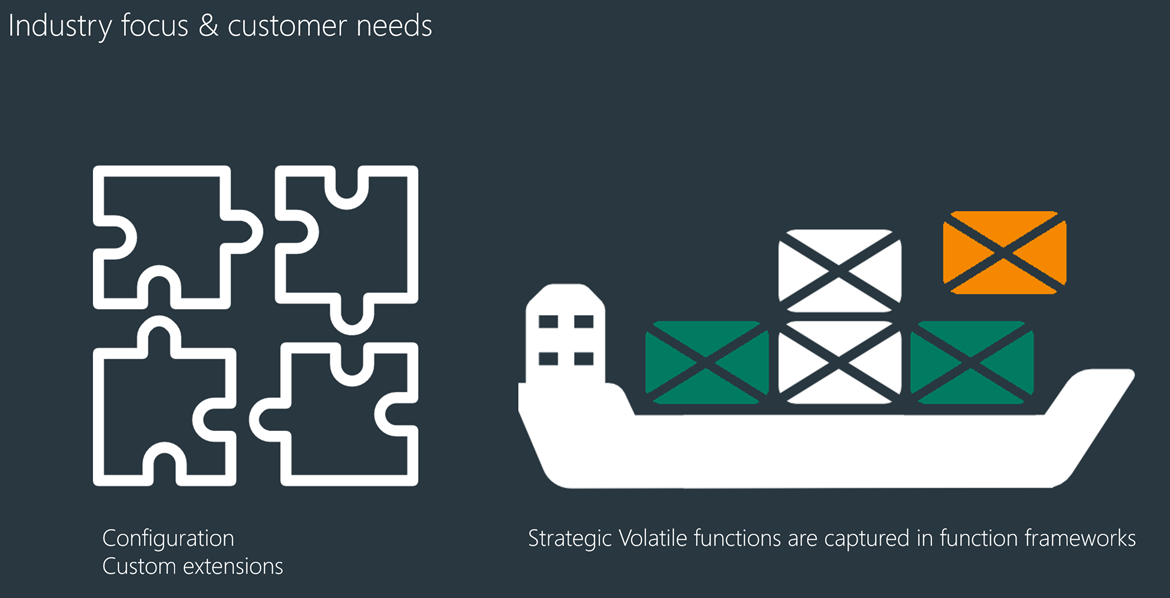 Allow for customizations in two ways, because no customer is and acts the same.
Configure & Extend Foodware 365 using Business Central and Foodware enabled configuration options and custom(er) extensions and allow for on-top-of market extensions from our partners by delivering integration events;
Encapsulate customer strategic volatile functions in a function framework (container of custom functions and data) through standard business function and data connectivity interfacing whilst not breaking business integrity by delivering business model driven REST APIs.
Whilst maintaining business 'safe' Foodware processes (business safe explained: our Foodware processes and functions take care of process and data integrity).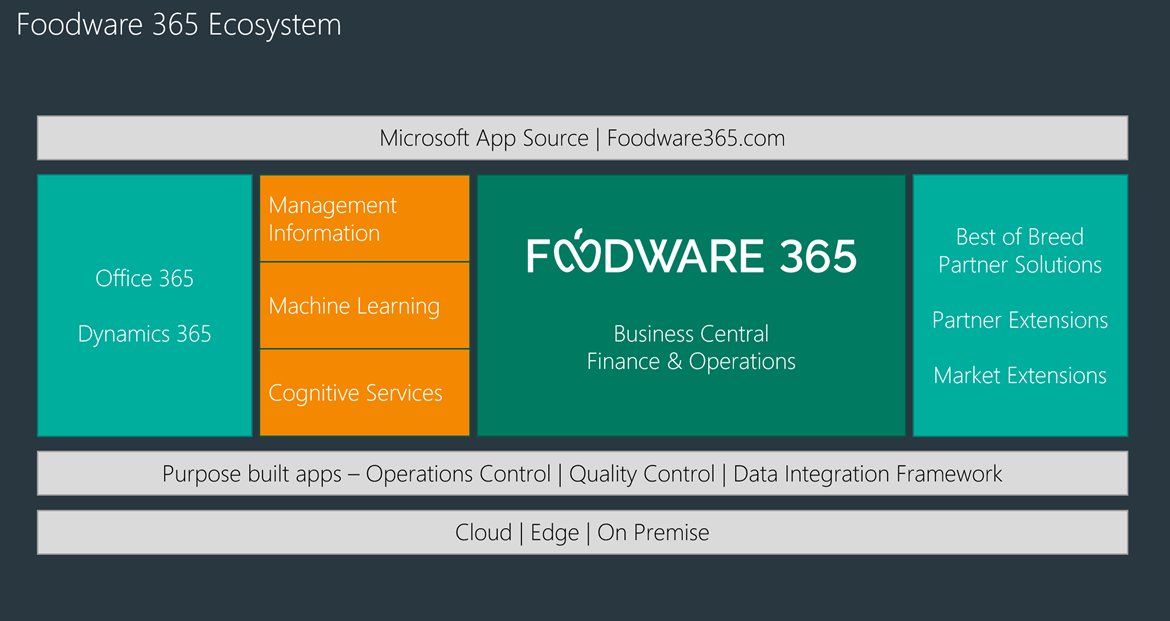 Foodware 365, the most valuable proposition
The Core – Foodware 365 Business Central is 'Build with' Microsoft (best-of-suite). Extended and enhanced with Foodware best practices and functions, based on 20+ years' experience. Re-think, re-design and re-develop our Foodware proposition and in the same process re-vitalize our best practices. No monolithic approach.
To Extend – Purpose-Built apps for shop floor and quality control functions, using the Power suite in combination with the Common Data Services/Model. Leave space for our partners and you to extend or add your own with full Foodware data integration.
Extend with trusted partner solutions, extensions & add-ons (best-of-breed). Our set of trusted partner add-ons are: the RF framework from Tasklet Factory to develop our scanning module (Tasklet Factory), the Document capture from Continia and the Document output management from Quadira. On top of the partner/market extensions & modules from our partners worldwide.
To communicate with your business partners – We are currently in the process of finalizing the first launch of our Data Integration platform, based on Azure Services such as Logic Apps, Azure Service Bus and Azure functions and the Business Central Data Exchange Framework. Phase one is based on EDI(FACT) processing and will be part of our most valuable proposition. The framework will be growing towards full service data integration in the upcoming years.
To analyze and report on your key asset, your data – BI solutions for Foodware 365 using CDS for Data Analytics and direct transactional dashboard/reporting.
Evergreen!
Growing towards using new exciting stuff, e.g. cognitive services.
Building the ecosystem for Foodware 365.
In the Cloud or On Premise, our reality we will be in the middle, living on the edge, a heterogeneous mix of Cloud applications and On Premise hardware & software solutions. Keep vital parts On Premise connected to the Cloud. Devices mobile, web & IoT living on the edge.
Now let's start building our future, exciting times, challenging too, a beautiful horizon. ETA Christmas 2019. See you around.