Data Exchange Framework (EDI)
Almost every food company has to deal with the retailer's requirement to communicate digitally via an interface. The most widely-used standard is EDI; the exchange of interface messages between supplier and retailer. And that involves a bit of work to set it up. On the one hand, you have to take your own ERP system into account and on the other hand the retailer and and EDI provider as well in order to align and connect and map interface messages to one another. Foodware 365 can offer you the simple option of realising a message flow between supplier and retailer. We call this the Data Exchange Framework.  
Create your own interface
The Data Exchange Framework can also be regarded as an EDI platform, but it goes further than simply that. It becomes an integral part of your software. It means that you can handle the mapping of your messages and the management of your communication fully within your own Foodware 365 ERP platform. Thanks to this insight in the entire framework of messages, you become the orchestrator of your own interface.
A selection of the modules provided with Data Exchange Framework
Standard messages
Within Foodware 365, we have made various standard messages so that suppliers and retailers can communicate with one another. 
Receive, read and process a sales order: ORDERS
Send confirmation of receipt of the ORDERS to be received: APERAK
Send a delivery message based on an ORDER to be received: DESADV (including SSCC data).
Send a sales invoice and credit note: INVOIC 
Every retailer has different requirements. In order to align messages with one another, mapping these messages is possible within Foodware 365. 
Brochure
How can we help your food company? Download the brochure and find out more information about our food solutions.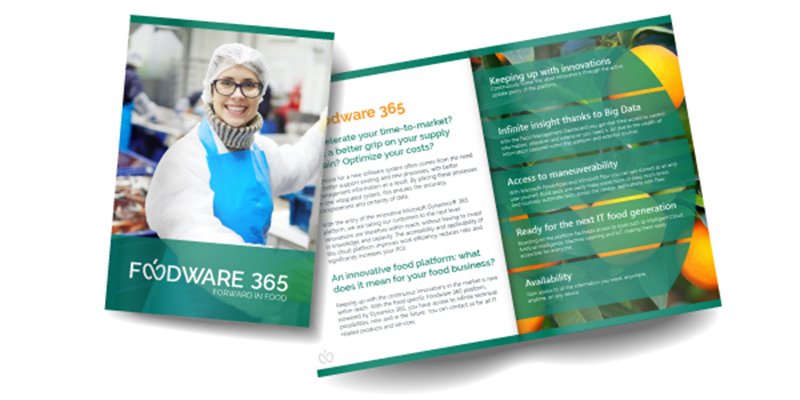 VMI
The Vendor Management Inventory (VMI) principle is supported in Foodware 365's Data Exchange Framework. This means that suppliers themselves are responsible for stocking a retailer's Shared Fresh Centers.  
Various international message formats
We can support your food company all over the world with various types of messaging and formats, from CSV to Edifact. You can receive and send the requested EDI messages with retailers all over the world. This is done via the GS1 standard, a standard that has been set by the food sector. This is supported both in the cloud and on-premise. 
Are you looking for other Data Exchange Framework options?
There is much more to be found in our Foodware 365 solution. Contact us at a moment of your convenience so that we can be of further assistance.
What can we do for your food company?
Do you have a business in the food sector? Discover how we can help your company reach the next level.